HDRi Maker
Category: Addons
Tag: procedural
500 Backgrounds
Dome Projection
Ground Deformation
Eevee Shadow Catchers
Animated Fog
Exa ADS - Learn more
Description
What is HDRi Maker?
HDRi Maker Studio is an addon for Blender that will allow you to use a large library of Backgrounds of almost 500 HDR and EXR images included, with a lot of tools to create domes and customize them to project the backgrounds on them, you can also import or create HDR directly from your scene, manage the lights, the sun, the shadow catcher in Eevee and Cycles.
The addon was created in 2019 and since then I have been updating it continuously, until today with this new version!
Below you will find a description that I hope will satisfy your curiosity.
Andrew_D
The tiger model is rendered in a HDRi Maker dome with Cycles:
---
Keep Your Feet On the ground!
As you may have noticed, the model is with its feet resting on the ground, in fact the addon creates a Dome that has a ground and on it there is projected an HDR background.
Here is an example of a robot animated in another dome:
---
New and customizable domes with the new Hook system!
In this new version of HDRi Maker Studio I have introduced 2 new types of dome, one in the shape of a Cube and one in the shape of a Cylinder, these can be modified in their perimeter thanks to the new "Hooks" functionality, this allows you to match the geometries present in the images, in order to have a wall in the point and simulate the environment where the HDR was taken.
The hook system in action:
---
The new Light Studio Tools
This fantastic feature allows you to create with one click a solid color backdrop and the lights to illuminate your model to the best, Taking advantage of the soft shapes of the dome, you will have a smoothed lighting, great for rendering 3D objects.
Example with Cycles render preview:
In action with Eevee render preview:
---
Difference between a projected HDR and not
In the first case, classic HDR applied to the Background. No Zoom, No ground.
With just 1 click you can have the dome and the ground, with shadows and zoom.
Preview with Eevee:
Render with Cycles:
---
Edit the ground to make it more realistic
With the HDRi Maker Wrap system you can deform the ground of the Domes using any object, you can create hills mountains or simply an uneven ground matching the original image. As always, you can also import your HDR / EXR images and use them as backgrounds.
---
Volumetric Fog animatable
A new section dedicated to the management of the volumetric fog has been introduced, this is located in the "Volumetric" section and allows you to manage the animatable volumetric fog in a simple and fast way, with a click you add it and you can modify it as you like.
---
Shadow Catcher works in Cycles and Eevee
The shadow catcher normally works only in Cycles, with the help of HDRi Maker you can use it also in Eevee, in addition you can also add reflections on it. This is useful if you want transparency using the lighting of an HDR / EXR
(This fantastic free model "Lightning Mage" was created by "Adipriatna" under CC-BY license and you can find it here)
---
Blur on the dome
At the request of many users, I have inserted the possibility of simulating the Blur directly on the Dome and also on the Background. It works according to the point of view even in Preview mode, without having to use the camera.
This render shows the Blur on the dome, rendered with Cycles:
---
Here is the new HDRi Maker interface
This new interface was built on the basis of the previous one because it was much appreciated, now it has been improved making the sections independent, you can move them where you like and you can also hide them if you don't need them.
---
Create HDR from your scene
With this feature you can create HDR directly from your scene, you can choose the resolution and the number of samples and save in the USER library to reuse them in the future.
---
Example of two types of Domes external view
In this example 2 types of Domes, in order the first is an hemisphere, the second is a Cube, adapted with the Hooks system: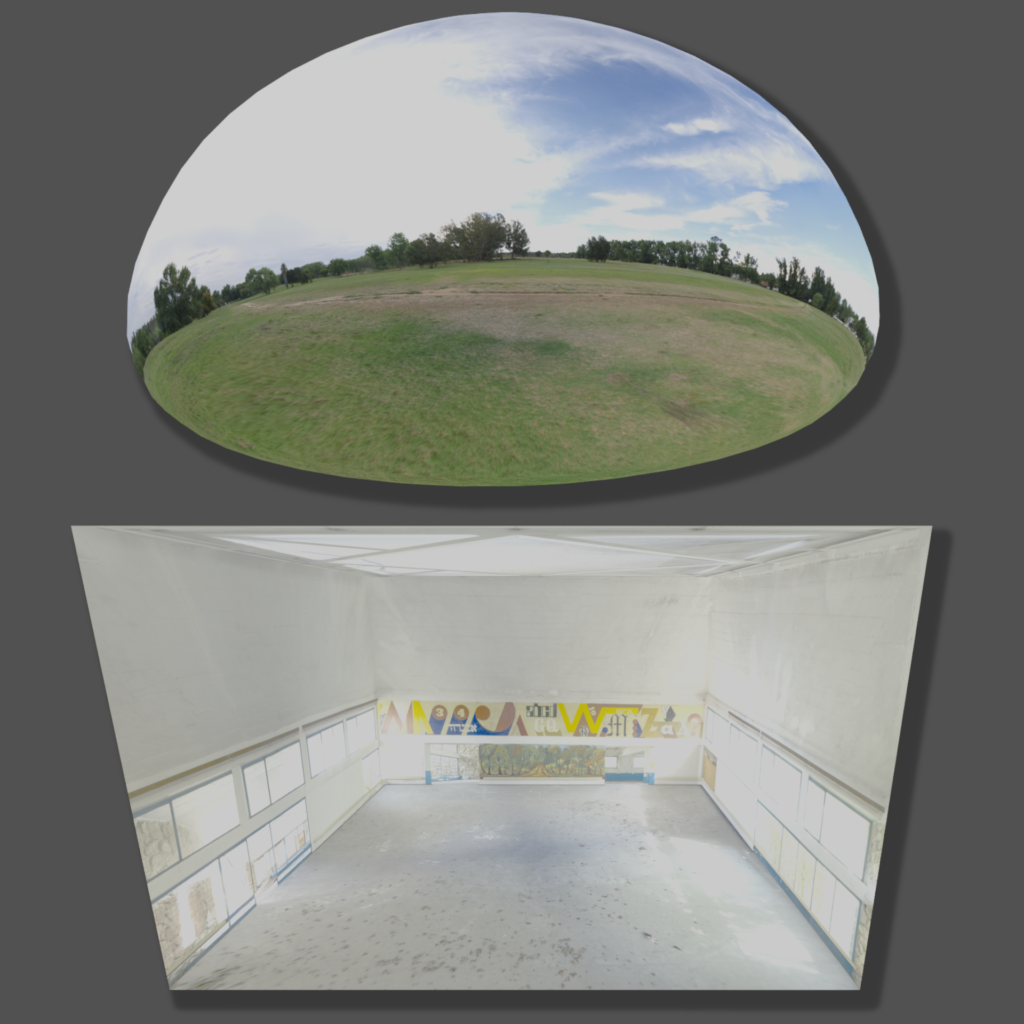 ---
Almost 500 Backgrounds included
All backgrounds are well categorized in Libraries / Categories with tags and an easy to use search system.
Import and use your HDR / EXR images
There are many sites out there where you might have downloaded HDR or EXR images, The nice thing is that you can import your HDR or EXR images on the fly and use them as if they were those of the HDRi Maker Studio library. This allows you to use them in the dome or simply as a background for your scene, taking advantage of all the features of HDRi Maker Studio!
Note: You can also import in Batch your HDR and save them in a category of HDRi Maker, this allows you to create a library in one go by selecting all your HDR / EXR files contained in your folder. Previews will be created automatically!
---
Solid color background with HDR lighting
From the 3.0 Version (Studio) it is possible to set a solid or gradient color as a background, while maintaining the HDR lighting of the Background (This feature was really requested by many users, so thank you to all those who wrote to me for this function).
---
New and beautiful documentation
I put in every section of HDRi Maker Studio, direct links to the documentation, this makes it much easier the learning of the features, just click on the icons (?) To open the online documentation. In addition, new documentation has been written from scratch, it is much more complete and well structured than before, and it is constantly evolving.
Documentation link: https://hdri-maker.readthedocs.io/en/latest/
---
Here are some features that include HDRi Maker Studio:
361 HDR in version 1k/2k/4k/8k/16k (This depends on the version you buy)
119 EXR from HdrMaps in version 1k/2k/4k/8k/10k (These are present in all versions)
Light Studio to manage the sun and lights
Domes (5 types) 3 Variants in the shape of an hemisphere, 1 in the shape of a cube and 1 in the shape of a cylinder
Ground Projection (To project even on objects different from the dome)
Shadow Catcher
Volumetric (To create effects like fog/dust)
Wrap (To deform the ground) – Blur (To add blur effect)
Hooks (To modify the perimeter of the dome)
Save System To save your Backgrounds – Import your HDR / EXR images on the fly
Import in batch your HDR / EXR images and save them in the library
Create HDR from your scene
Manage procedural nodes directly from the interface
My assistance if there are any problems or bugs 😎👍
Documentation here
---
Did you already buy HDRi Maker?
Update it! it's free as always, follow the installation guide of the documentation: https://hdri-maker.readthedocs.io/en/latest/installation.html
---
Here's which versions of Blender HDRi Maker Studio works
HDRi Maker Studio (That is, the 3.0 version of HDRi Maker) Work on Blender 3.0 and up, Suggested to have at least version 3.3 LTS, or better yet 3.4 In addition, be careful, HDRi Maker has been tested on the official versions of Blender, that is, those you can download for free from the website https://www.blender.org/ This addon is compatible with Cycles and Eevee, other render engines that do not use the official Blender nodes will not work.
---
Assistance
Oh Yes!!!
If you need assistance, write to me within 24h.
HDRi Maker is a very complete addon to make it easy to add 360 Degree Backgrounds, it makes the workflow very fast and it has a huge library ready to use.
At the moment there are almost 500 Backgrounds Included
Yes, the entire Default library of HDRi Maker is provided under CC0 license, so you can use it even without citing the license. If you want to use the backgrounds contained in the Hdr Maps expansion, you can do it, but you will have to cite the author and the license
It is a function that projects the background onto an object, in this case a dome or a cube, in this way you can have a background that adapts to the shape of the object. This allows you to have a real terrain in the scene, and in addition to being able to zoom on the background (something that is usually not possible)
HDRi Maker was born in 2019 and since then all users who have purchased the addon have received all updates for free. This means that if you buy the addon today, you will have access to all future updates.
Yes, you can do it, you will just have to buy the PRO version and you will only pay the difference in price.
No, it is sufficient to install even only the 1k libraries, which occupy less than 1GB, the minimum to have HDRi Maker working.
My advice is undoubtedly yes, but it is not mandatory. The important thing is to have a VRAM large enough, at least 4GB
Technically it would be useful to have at least 8GB of VRAM to run GPU rendering with such high resolutions
Cycles and Eevee are the rendering engines supported by HDRi Maker, support for other rendering engines is not planned at the moment
Of course! Both on Blendermarket via message, and on extreme-addons.com you can find a chat in the bottom right
At the moment support for other platforms is not planned, but it is possible that in the future there will be